Happy Friday! Here's what I was up to this past week.
How I Earned Money This Week
One of my retainer client's fees came through this week.

Dan's paycheck was deposited yesterday

We had an Airbnb guest staying with us all week and we have another family arriving today.
How I Spent Money This Week
On Sunday, Dan and I drove to Richmond to meet our future puppy, and we bought some snacks at the gas station on the way home. We also put down a deposit on the puppy.

Since we knew we would be bringing home a puppy this weekend, we had a lot of supplies to buy! We used Chewy to buy an exercise pen, potty pads, food, toys, shampoo, food bowls, a collar, leash, bed, and more. Luckily, we saved up for these expenses way ahead of time, so it's not hurting our wallet!

There are a few things around the house that we need to do to make it safe for a puppy. It turns out, most of my plants are poisonous to dogs! We bought a tiered shelf that will raise the plants higher than the puppy can reach.

Outside of puppy expenses, we have been on a spending freeze so that we don't go over budget for February. I'm excited to be starting a new month today!

Tomorrow, we will be paying the rest of what we owe for the puppy.
What I'm Writing
This week, I wrote about why you should care about your financial profile (aka, your credit score, credit history, credit report, etc.).
What I'm Up To
What I'm Excited About
Dan and I are finally getting a puppy this weekend! We drove down to Richmond last weekend to meet a corgi puppy and we loved him on sight. We are driving back down first thing tomorrow to pick him up and take him home with us. Follow me on Instagram to see how cute he is! I'll also take any advice or resources that you have on how to raise a puppy.

I want to hear from you! As I am continuing to create blog content and expanding my work into online courses, a podcast, and more workshops, I want to make sure I'm creating things that are useful to YOU. I've made a survey for my clients and readers to hear about what you most want to learn about. Fill it out here!
Money Tip to Take Into the Weekend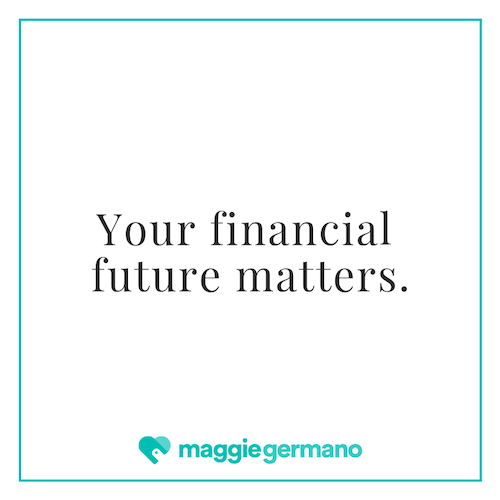 That's all from me today! Have a fantastic weekend!
---
Maggie Germano
Certified Financial Education Instructor. Feminist and financial coach for women. Founder of Money Circle.