Happy Friday! I hope you had a fantastic week. Here's what I was up to!
How I Earned Money This Week
One of my clients' monthly payments came through this week.

We have an Airbnb guest coming tonight and staying through Monday.
How I Spent Money This Week
On Sunday, Dan and I bought a bunch of healthy food at Safeway. We've had a really hard time eating well since we moved into our house, and with the wedding almost two months away, we want to get down to business. I also bought a few supplemental things on Amazon that night.

On Monday, I had a doctor's appointment, so I paid the small co-pay for that.

As with every week, I bought several small items for the wedding. I bought table numbers, tags that will go on guests' drinking glasses, and a dress bag for my wedding dress.

I had lunch with my friend, Nina, yesterday. We ate at SweetGreen.

Yesterday, I attended my friend Rachel's bachelorette party. It was a tea party at Lady Camilla's Tea House in Georgetown, and was so much fun!

Today, we were charged for this week's pre-marital counseling appointment.
What I'm Writing
What I'm Up To
I was on the Be Heard podcast this week! Tune in to hear me talk with Shana about getting your money right.

The September Money Circle meetup is scheduled and ready for you to sign up! Next month, we'll be meeting to discuss how to plan ahead and save for holiday season. See you there?

I'm holding my first official budgeting workshop! On Saturday, September 15th, we'll be gathering at Yoga Heights in Petworth, DC to learn how to budget! Sign up for the Making & Breaking the Budget workshop today! This is for you if you've always struggled to stick to a budget, and you want to find a budgeting framework that works for you.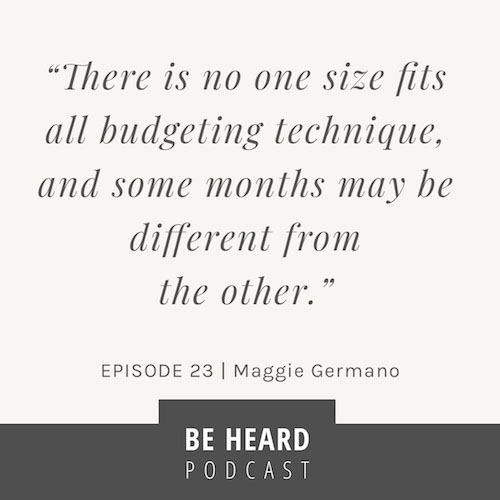 What I'm Excited About
My friends Rachel and Paul are getting married this weekend! I can't wait to go down to Luray, Virginia to celebrate them.

My bachelorette party is next weekend! I'm excited to have my family and dear friends come down from New York and mingle with my DC friends. We'll be riding a shuttle around to a few different DC breweries and cideries.
Money Tip to Take Into the Weekend
That's all from me this week. Have a great weekend!
---
Maggie Germano
Certified Financial Education Instructor. Feminist and financial coach for women. Founder of Money Circle.

Related posts