Happy Friday, everyone! Here's what I was up to this past week.
How I Earned Money This Week
One of my retainer clients paid their monthly fee.

One of my ongoing coaching clients paid their monthly fee.

I got the check for a speaking gig I did last month.

An Airbnb guest checked out on Tuesday.
How I Spent Money This Week
We are having a Halloween party this weekend, so we bought a couple things to make our costumes complete.

We bought waterproof covers for the chairs and dining set on our deck. We're used to having our furniture out on the covered front porch, and now that they are on the back deck without coverage, we wanted to make sure to protect them from the elements.

We made the second payment for one of the Airbnbs in Peru.

We haven't spent this money yet but we're a little anxious that it's going to happen. Over the past two years, I've written a lot about spending lots of money on home improvement. On Tuesday, a crack in a basement wall sprung a leak and was literally pouring water into the laundry room. We had a foundation expert come by yesterday to do a full inspection and it looks like we might need some major foundation work done. I'm trying not to freak out about it yet, since he had to write up a full report for us, and we're going to get a second opinion, but I'm so not thrilled. However, I do think it's important to protect the structural integrity of the house, so we'll do what we have to do.
What I'm Writing
This week, I wrote about how you can prepare to leave an abusive relationship.
What I'm Saying
This week, I sat down to talk about how you can plan and save money throughout the year so that you're prepared for

Fill out this questionnaire to submit your own money questions for the podcast. Nothing is too big or too small! If you or someone you know would make a great guest, submit your name!
What I'm Up To
I released tickets for the November Money Circle meetup! We'll be talking about how to plan and save all year so that we can afford big expenses. Hope to see you on November 20th!

I'm doing some thinking about what topics I want to cover in upcoming Money Circle meetups in Washington, DC. Send your preferences in this form!

I've created a virtual Money Circle membership program! If you are not located in the DC area, or if you just want more connection through Money Circle, this program is for you. There are 3 tiers that offer different options at different price points. There is a group coaching component and even a level that lets you check in with me every month. Sign up today!
What I'm Excited About
We're leaving for Peru in exactly two weeks! I can't wait to get there and explore.

We're heading to Baltimore tonight to see Max and Sherri Bemis in concert! Max's old band Say Anything and Sherri's band Eisley have been my favorite bands for years, so I'm excited to see them perform together. Plus they have a band together called Perma.
What I'm Reading
I finished reading My Sister, The Serial Killer and Not That Bad: Dispatches from Rape Culture. Both books left me feeling dejected in different ways. Now I've moved on to The Witch Elm by Tana French because I can't seem to dig into my nonfiction right now.
Money Tip to Take Into the Weekend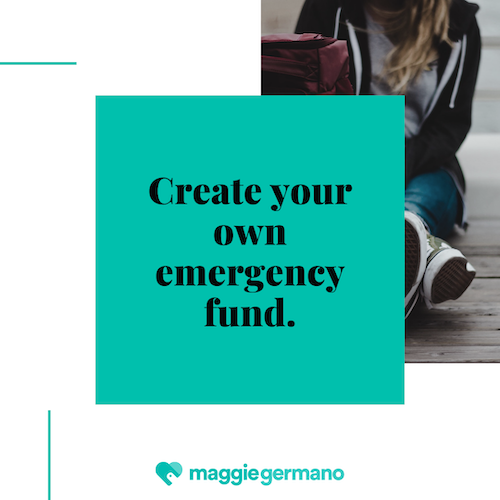 That's all from me this week. Have a great weekend!
---
Maggie Germano
Certified Financial Education Instructor. Feminist and financial coach for women. Founder of Money Circle.