Happy Friday! I hope you had a fantastic week. Here's what I was up to!
How I Earned Money This Week
We had to block off the Airbnb this week while we renovate the basement shower, so there's no Airbnb income. And I didn't have any client payments go through this week. Dan's paycheck came in today, so that's our income for the week!
How I Spent Money This Week
Dan and I tried out Sun Basket for the first time, with an introductory offer, so we were charged a low fee for our first two dinners.

I'm currently in Orlando, Florida for FinCon, an annual conference for financial professionals. When I check out tomorrow, I'll pay for my hotel, and I've been paying for my meals with my business credit card.

Since I'm in Orlando, I decided to go to Universal Studios, mainly to see Hogwarts. It's pretty expensive, even just for one day ($180 for both parks where there are Harry Potter attractions!), but I was told that it's really worth it. I took the 7am free shuttle from my hotel and got to the park as soon as it was opening. I stayed for about 5 hours, and it was pretty empty and quiet for the first hour or two, which was nice. I loved the rides at Hogwarts and Diagon Alley. I also enjoyed the raft ride at Jurassic Park, and the crazy truck ride at the King Kong exhibit. I don't know how anyone can spend more than half a day at the park, but I enjoyed my time there! Though I'm getting too old to ride rides without getting nauseated.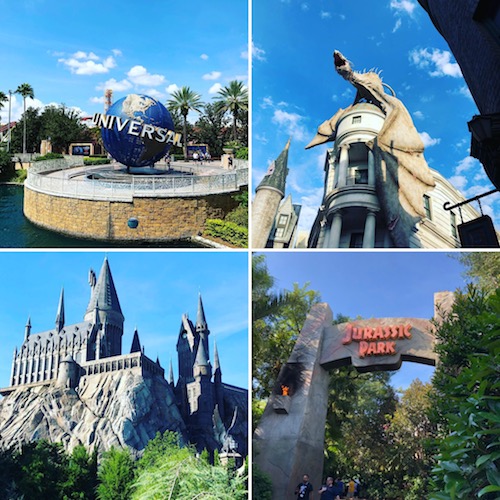 What I'm Writing
This week, I wrote about how you can prepare ahead of time for holiday spending. You don't have to be stressed and broke every year. Plan ahead and make your life better.
What I'm Up To
Next month, Money Circle is meeting to talk about how to ask for a raise at your current job. If you know you'll have to do this soon, join us on October 24th!
What I'm Excited About
I won an award last week! The DC Women's Business Center named me the Woman Empowerment Entrepreneur of the Year! I was really surprised to win, since there were so many other amazing entrepreneurs there, but I'm also very proud!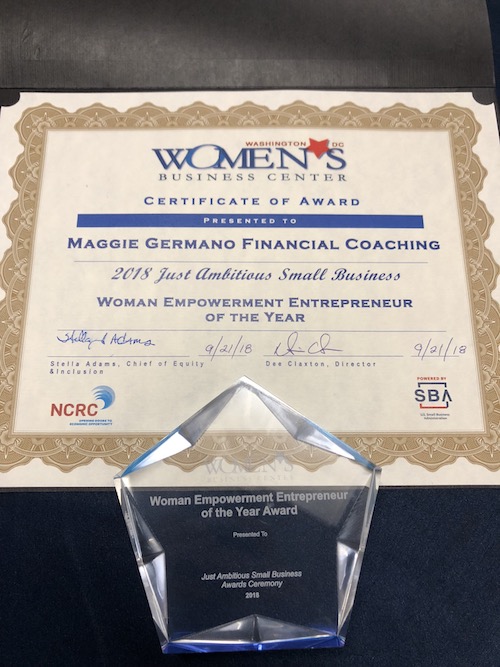 Money Tip to Take Into the Weekend
That's all from me today! Have a fantastic weekend!
---
Maggie Germano
Certified Financial Education Instructor. Feminist and financial coach for women. Founder of Money Circle.