Happy Friday, y'all! Here's what I was up to this week.
How I Earned Money This Week
Our Airbnb has been booked up all week.

Dan got his bi-weekly paycheck.

One of my ongoing clients paid her monthly fee.

One of my retainer clients paid her monthly fee.

A new client paid her first monthly fee
How I Spent Money This Week
On Sunday, Dan did our weekly grocery run at Whole Foods.

I have been seeing a therapist weekly since January. She's right up the street from my house and her fees are very reasonable. This week, I paid the co-pay for several weeks worth of sessions.

On Tuesday, I needed some relaxation time, so I visited Numi Yoga in College Park for the first time for their calm class.

I bought a drawer organizer for our kitchen junk drawer. I'm a big believer in junk drawers, but there's no reason for them to be so disorganized that you can't actually find anything!

Our Airbnb doesn't cost us too much these days, aside from utility bills. However, this week, we had to buy more toiletries, like shampoo, conditioner, and body wash. We also like to leave some candies for our guests, so I bought more Hershey's to replenish the bowl.
What I'm Writing
May is Mental Health Awareness Month. This week, on the blog, I wrote about how mental health is affected by student loan debt.
What I'm Up To
The May Money Circle is coming up on Tuesday, May 21st! This month, we'll be talking about how you can improve your credit score. See you there?

On the day after Money Circle, May 22nd, I'll be sponsoring the DC event for the Bossed Up book tour! I've known Emilie for years and she's a huge reason for why I decided to start my own business. I'm excited to read her book and I'm proud to sponsor this event!
What I'm Excited About
I just signed up for 12 weeks of health coaching with Megan Sanchez of Upswing Health Coaching! Megan was the expert at our April Money Circle meetup and I liked her so much that I decided to hire her myself! I'm excited to get started and take back control of my health.
What I'm Reading
I'm still reading A Princess in Theory, but I've also started 99 Percent Mine by Sally Thorne. It's cute and I'm enjoying it more than A Princess in Theory so far.
Money Tip to Take Into the Weekend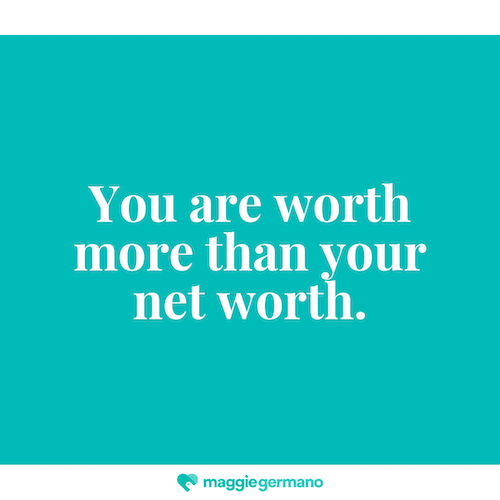 That's all from me today! Have a fantastic weekend!
---
Maggie Germano
Certified Financial Education Instructor. Feminist and financial coach for women. Founder of Money Circle.