Happy Friday! I hope you're staying dry and warm out there. Here's what I was up to this past week.
How I Earned Money This Week
Two of my clients' monthly fees went through on Sunday.

We have had an Airbnb guest staying with us all week.
How I Spent Money This Week
We're trying really hard to keep our spending down until the end of the month so that we stay within our budget. So we haven't spent much money this week.

On Sunday and Thursday, we bought some groceries for making meals at home.

On Wednesday night, Dan and I went to the 930 Club to see LP in concert. We bought the tickets several months ago, so that was already covered. However, we got dinner at El Ray beforehand and spent $30, using cash.

We did spend a bit chunk of money on plane tickets to Chicago to visit Dan's family for Passover in April. However, we'll be pulling that money from our travel fund to cover the cost.

We haven't spent this money yet, but Dan and I are going to Tiki TNT at the Wharf tonight. We try to find tiki bars in the cities that we visit, so we have to finally check out one that is in our own city!
What I'm Writing
This week, in honor of Black History Month, I wrote about how systemic racism has long-lasting economic effects.
What I'm Up To
On Wednesday, March 6th, I will be at the Lemon Collective leading a workshop on how to align your money with your values.

On Tuesday, March 12th, I will be at Mindspace leading a workshop called Making & Breaking the Budget. If you struggle with creating and sticking to a budget, this one is for you!

On Wednesday, March 27th, I'll be hosting Money Circle. We'll be joined by personal style coach, Allison Hamilton-Rohe, since our topic is: How To Create a Powerful Personal Style On A Budget.
What I'm Excited About
If you've been following along, you know that Dan and I have been trying to find a corgi puppy to add to our family. We had two rescues fall through so we've started reaching out to local breeders. This weekend, we're driving to Powhatan, VA to visit a breeder and meet her corgi puppies. She's the first person we've spoken to who has puppies available without a huge waitlist!
Money Tip to Take Into the Weekend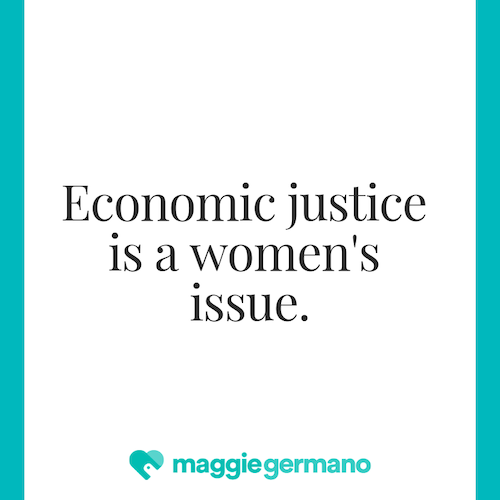 That's all from me today! Have a fantastic weekend!
---
Maggie Germano
Certified Financial Education Instructor. Feminist and financial coach for women. Founder of Money Circle.