Happy Friday! Here's what I was up to this past week.
How I Earned Money This Week
Dan's bi-weekly paycheck came through.

One of my new clients paid her monthly fee.

I led a budgeting workshop at Mindspace this week. The payment should be coming through from Eventbrite soon.
How I Spent Money This Week
I've decided to start seeing a functional medicine doctor this year to get to the root causes of some of my hormonal issues. Unfortunately, most of these places don't take insurance, so I used our FSA card to pay half of what my initial appointment will cost.

We haven't spent the money yet, but I assume that will be happening soon. We got two free estimates done for getting a mouse situation taken care of in our house. A couple weeks ago, Dan and I started hearing some scratching noises from our pantry. It sounded like a mouse was trying to chew through the wall. We put out traps but didn't catch any mice. This week, I heard what sounded like mice scratching around in the ceiling. Not okay! I immediately contacted exterminators to see what our options are. Homeownership means there's always something going wrong, y'all!

Yesterday was Dan's and my 5 year dating anniversary. Dan took the day off from work and we had breakfast at Call Your Mother to celebrate.

Never to go a week without costing money, Bruno had a follow up appointment at the vet this week for his second round of vaccines.

My parents are in town this weekend to visit, meet Bruno the corgi, and help us with some home improvement projects. In preparation for their arrival, we purchased a bathroom ventilation fan and a bi-fold door, which will both go into our master bathroom. I also order two cute towel hooks.
What I'm Writing
This week, I wrote about the darker side of personal finance, which is financial abuse.
What I'm Up To
Starting Monday, March 18th, I'll be part of a week-long video series called "Rewrite Your Money Story". Sign up to tune in!

On Wednesday, March 27th, I'll be hosting Money Circle. We'll be joined by personal style coach, Allison Hamilton-Rohe, since our topic is: How To Create a Powerful Personal Style On A Budget.

I want to hear from you! As I am continuing to create blog content and expanding my work into online courses, a podcast, and more workshops, I want to make sure I'm creating things that are useful to YOU. I've made a survey for my clients and readers to hear about what you most want to learn about. Fill it out here!
Money Tip to Take Into the Weekend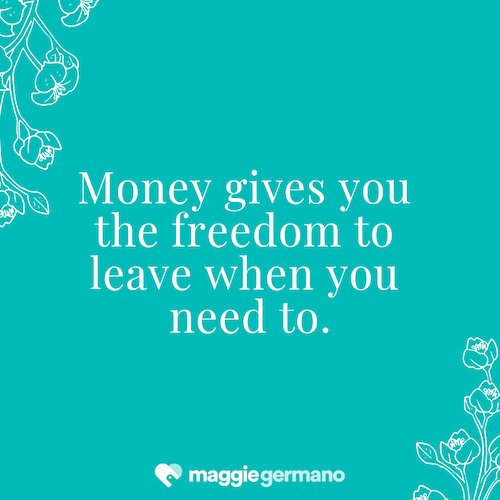 That's all from me today! Have a fantastic weekend!
---
Maggie Germano
Certified Financial Education Instructor. Feminist and financial coach for women. Founder of Money Circle.