Happy Friday! If the buds on the trees are any indication, it seems like spring is coming. However, it looks like snow is in the forecast this weekend, so we'll see. Here's what I was up to this week!
How I Earned Money This Week
We had one Airbnb guest this week.

One of my ongoing clients signed on for another 3 months.

I had two couples sign up for one-time coaching sessions.

I spoke at Varnish Lane nail salon last night for the first in their Varnish Lane After Hours series. It was a great event, and it was paid!
How I Spent Money This Week
Our annual Amazon Prime membership fee went through on Monday. Hate getting surprised by bills like these? Set up an account for non-monthly expenses and save throughout the year!

We were too tired to get groceries earlier this week so we got dinner at Whole Foods' hot bar. Vegan General Tso's FTW.

Dan put up our beautiful new light fixture in our kitchen! So we ordered some fake Edison bulbs (they're LED) to put in it. We also ordered some ant poison for our basement (yay, spring) and a few other small items for the house.

I got a massage yesterday. It was way overdue and definitely needed. It's hard to validate spending money on something like this, especially since my income is currently a lot lower than it used to be. However, I built up a nice fun fund last year and this is the exact type of expense it's for. So I pulled that money from my savings and got an amazing massage from Layne Curry at Aura Spa on U Street.

We haven't made the purchase just yet, but later today, Dan and I will be taking a big grocery trip to get all the food needed for our Passover celebration this weekend.
What I'm Writing
This week, I wrote about a topic that comes up a lot with my coaching clients: credit card interest! Find out what it means, how it works, and why it matters.
What I'm Excited About
Dan's family is coming to town today to celebrate Passover with us and see our new house. We were in Syracuse last weekend with my family for Easter, so it's nice to host Passover, even if we're a bit late.

I was on the Aligned and Alive podcast this week with Alli Owen! We talked about all things money and women and it turned out really well!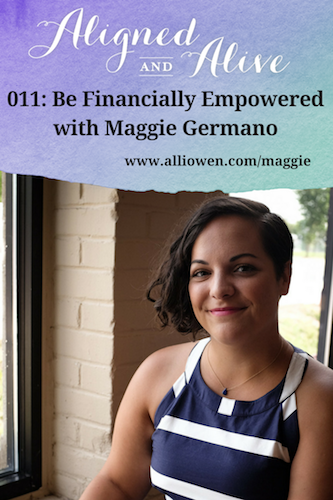 Money Tip to Take Into the Weekend
Now that spring is (supposedly) coming, find some go-to activities that don't cost a lot of money. Is it hiking? Is it picnicking at your local park? Just going for a walk after dinner? Fun doesn't always have to look like (and cost as much as) brunch and/or drinks this spring.
That's all from me for this week! Enjoy your weekend!
---
Maggie Germano
Certified Financial Education Instructor. Feminist and financial coach for women. Founder of Money Circle.