Happy Friday, y'all!
How I Earned Money This Week
Lots of money coming in this week! One of my retainer clients paid their monthly fee, two of my ongoing coaching clients paid their fees, and a new client paid for her first month of coaching!

We also have had Airbnb guests all week. May has been a very busy month for our rental.

Dan's bi-weekly paycheck came in today.
How I Spent Money This Week
We were in Virginia Beach visiting friends over the weekend. We mostly ate at their house, but after they treated us to pizza on Saturday, we bought a bunch of groceries for a cookout on Sunday. We also got some snacks and gas for the drive home.

Dan made a pretty substantial grocery run on Monday that left us with almost more food than we could eat this week. I've also stopped by the store a couple times this week for small items.

I went to yoga this morning with my friend Nina, who is getting married tomorrow! I paid for a drop-in class at Yoga Heights and then got us some coffee and tea afterwards.

I stopped today to buy a card for the wedding tomorrow and picked up some Father's Day cards as well. I always forget to get cards and gifts in time, so I decided to get ahead this time.
What I'm Writing
This week, I wrote about life insurance and why it's so important for women to have it, especially if they have people depending on them.
What I'm Up To
The June Money Circle meetup is up and available for registration! At this event, we'll be visualizing our money goals so that they're more motivating and easier to track. See you there?

I've been hinting at starting a podcast for a while now. But in order to make sure the podcast is interesting and helpful for YOU, I want to make sure I'm answering your questions. Fill out this form to submit any and all money questions that you have!
What I'm Excited About
My friend Nina is getting married tomorrow! I can't wait to celebrate her and her fiancé and dance the night away.

I'm going to Cape May next week! My sisters, two cousins, and I are taking a girls trip to the beach for the first time. It'll be so nice to relax and have quality time with my fam.
What I'm Reading
I read all of Bird Box by Josh Malerman this week. It was even scarier than the movie and I ended up having apocalyptic dreams every night. I also started The Interestings by Meg Wolitzer and am still working my way through Ghosts in the Schoolyard by Eve L. Ewing.
Money Tip to Take Into the Weekend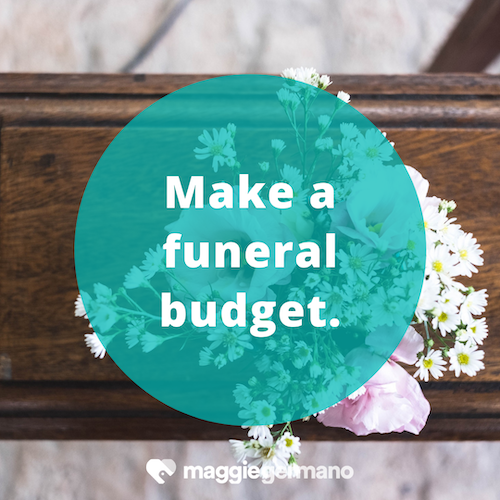 That's all from me today! Have a fantastic weekend!
---
Maggie Germano
Certified Financial Education Instructor. Feminist and financial coach for women. Founder of Money Circle.