Happy Friday, everyone! Here's what I was up to this past week.
How I Earned Money This Week
I spoke at a large corporation in Atlanta on Wednesday. In fact, it was my highest paid speaking gig ever. They paid a deposit a couple weeks ago when we signed the contract, and they paid the remainder of the fee this week.

One of my ongoing clients paid their monthly fee.

We have an Airbnb guest arriving tonight.

Dan's biweekly paycheck came in on Monday.
How I Spent Money This Week
Since I was in Atlanta for a day, I paid for a few meals, snacks, public transportation, and my hotel. All of those expenses will be written off when I do my taxes.

We're running low on Bruno's food, so we ordered more through Chewy, and got him an extra chew bone while we were at it.

I got my hair cut on Tuesday.

On Monday, I met my friend for coffee, so I bought myself some tea.

We're going to see Fleabag live tonight at the Shakespeare Theater, and we bought those tickets on Sunday night.

On Sunday, we bought some groceries to last us through the week.
What I'm Writing
This week, I wrote about why I think everyone should take a money minute every week in order to stay on top of their finances.
What I'm Saying
On the podcast, I sat down with financial therapist Lindsay Bryan-Podvin to talk about financial anxiety. Make sure you're subscribed wherever you listen to podcasts so you never miss an episode!
What I'm Up To
I just published the October Money Circle meetup! We'll be gathering to discuss how to prepare for holiday spending weeks or even months in advance.

I've created a virtual Money Circle membership program! If you are not located in the DC area, or if you just want more connection through Money Circle, this program is for you. There are 3 tiers that offer different options at different price points. There is a group coaching component and even a level that lets you check in with me every month. Sign up today!
What I'm Excited About
I'm heading back to Atlanta next week for the She Podcasts conference! Even though I've only been podcasting for like a month and a half, I'm excited to be in a space surrounded by other women who are also podcasting. Plus, some of my favorite podcasters will be there!
What I'm Reading
I'm actively reading two books right now. I started Trick Mirror by Jia Tolentino a few days ago, but last night, I started My Sister, The Serial Killer by Oyinkan Braithwaite because while I really want to read important essays, I am really much more into fiction these days.
Money Tip to Take Into the Weekend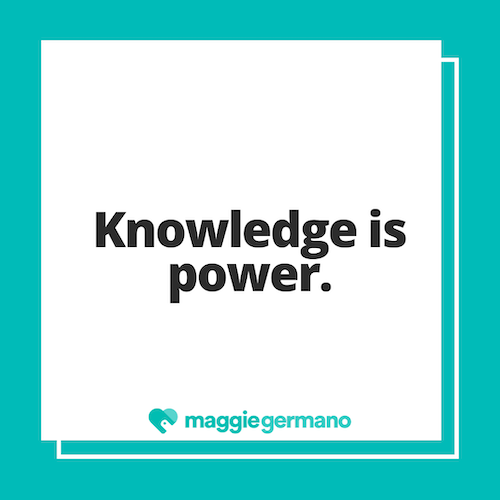 That's all from me this week. Have a great weekend!
---
Maggie Germano
Certified Financial Education Instructor. Feminist and financial coach for women. Founder of Money Circle.